Nintendo Holiday Experience 2011 Review

When:


Monday, November 21 2011-December 18 2011

Locations:


Chandler, AZ; Canoga Park, CA; San Francisco, CA; Santa Clara, CA; Danbury, CT;
Miami, FL; St. Petersburg, FL; Atlanta, GA; Aurora, IL; Indianapolis, IN;
Annapolis, MD; Natick, MA; Novi, MI; Eden Prairie, MN; Paramus, NJ; Woodbridge, NJ;
Strongsville, OH; Portland, OR; King of Prussia, PA; Memphis, TN;
Arlington, TX; Austin, TX; Houston, TX; and Seattle, WA

Full location info is available on the Nintendo webpage:
http://www.nintendo.com/whatsnew/detail/LXCd02VHQS-RWS4edYRqXxrY5a5CHu0i

Admission Price:


Website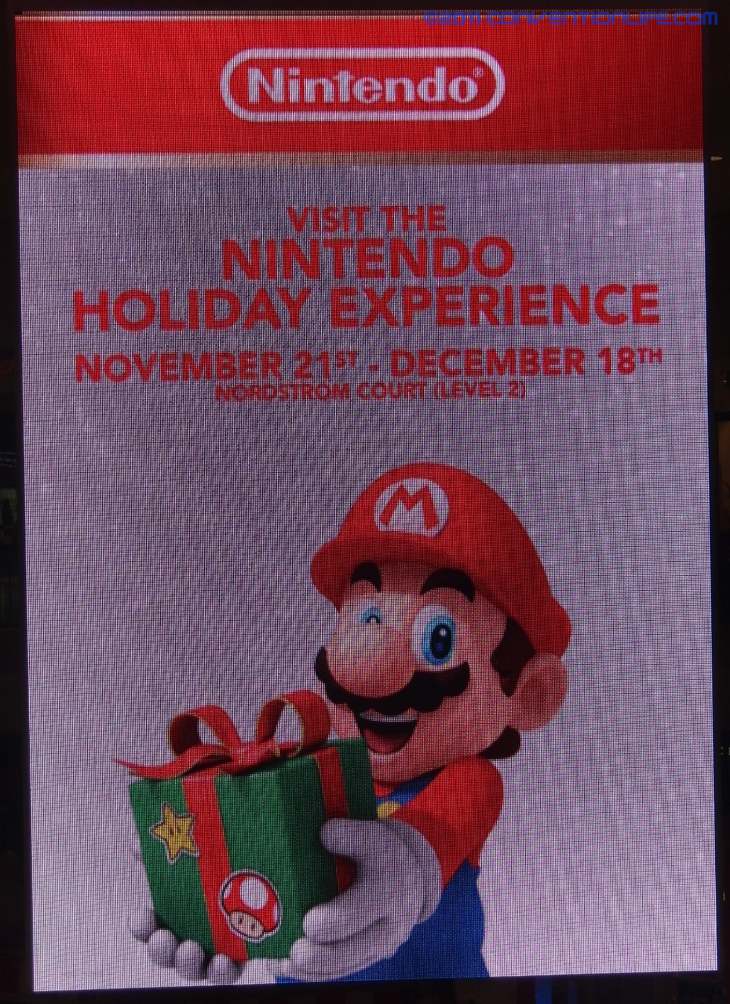 The Nintendo Holiday Mall Event 2011 is a 4 week-long Christmas promotional event scheduled for November 1st to December 18th by Nintendo at 24 malls across the continental United States.
While this event is tiny compared Nintendo's epic competition events such as the Nintendo 1994 PowerFest and the Pokémon championships, this event shows mall shoppers a variety of titles available on Nintendo's hardware platforms for the holiday season. This event also promotes some of the holiday bundle deals being offered by retailers.

Despite the small size of the display, there were about two dozen games are available for demo play, including:
Bejeweled 3 (DS)
Donkey Kong Country Returns (Wii)
Fossil Fighters Champions (DS)
Just Damce 3 (Wii)
Kirby Mass Attack (DS)
Kirby's Return To Dreamland (Wii)
Mario Kart 7 (3DS)
Mario Kart Wii (Wii)
New Super Mario Bros. Wii (Wii)
Nintendogs + Cats (3DS)
Pokémon Rumble Blast (3DS)
Professor Layton and the Last Specter (DS)
Super Mario 3D Land (3DS)
Super Smash Bros. Brawl (Wii)
Super Street Fighter IV 3D Edition (3DS)
Star Fox 64 3D (3DS)
Skylanders: Spyro's Adventure (3DS)
Tetris Axis (3DS)
The Legend of Zelda: Orcarina of Time 3D (3DS)
The Legend of Zelda: Skyward Sword (Wii)
Wii Play Motion (Wii)
Wii Sports Resort (Wii)
Zumba Fitness 2 (Wii)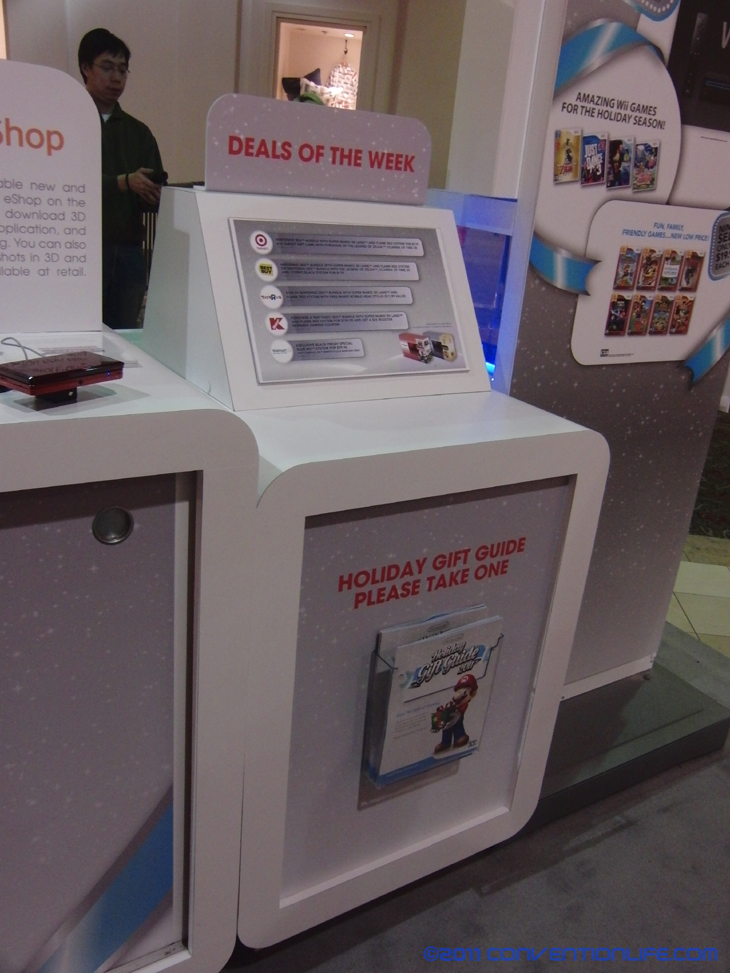 The Deals of the Week shows the weekly deals available from Target, Best Buy, Toys R Us, K Mart and Walmart.
Randomly, event staff will give attendees Nintendo swag! Swag include Mario Moustaches, bookmarks, pins, and lanyards. Some may recognize these items from Nintendo's previous 2011 events such as the Pokemon Black And White Mall Tour and Nintendo's San Diego Comic Con 2011 demo room.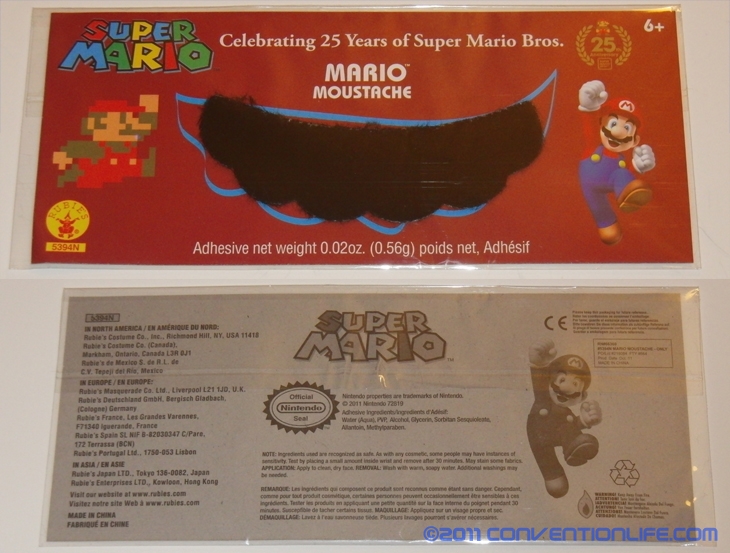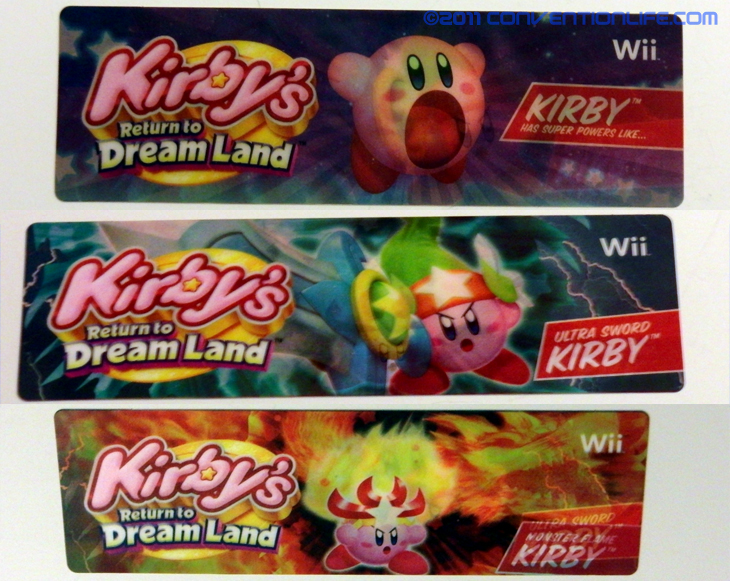 My personal favorits swag item is the Kirby's Return to Dreamland lenticular bookmark.
This is a nice, free, promotional event with some good swag. It's not a big deal, but it's a nice holiday shopping bonus that gives people a chance to try games before buying them. I rate this event: 5 out of 10.
-Michael Tang
mtangATconventionlife.com (fix the @)
The writings and photos used in this article are copyright 2011 Conventionlife.com for news and informational purposes. Please do not republish or redistribute without permission. All characters and properties that appear in this article are copyright of their respective owners.
Conventionlife.com is a website to help spread knowledge of pop culture conventions and events.
All written content and photos are copyright conventionlife.com or their respective owners. Copying or redistributing any of the copyrighted material on this website is strictly forbidden without consent. Ownership credit is given if known.