Anime Expo 2011 Event Review

When:


Location:


Los Angeles Convention Center
1201 South Figueroa Street
Los Angeles, CA 90015

At-Con Registration Prices:


Full Weekend (4 days) - $75
2 days - $65
1 day - $50

Website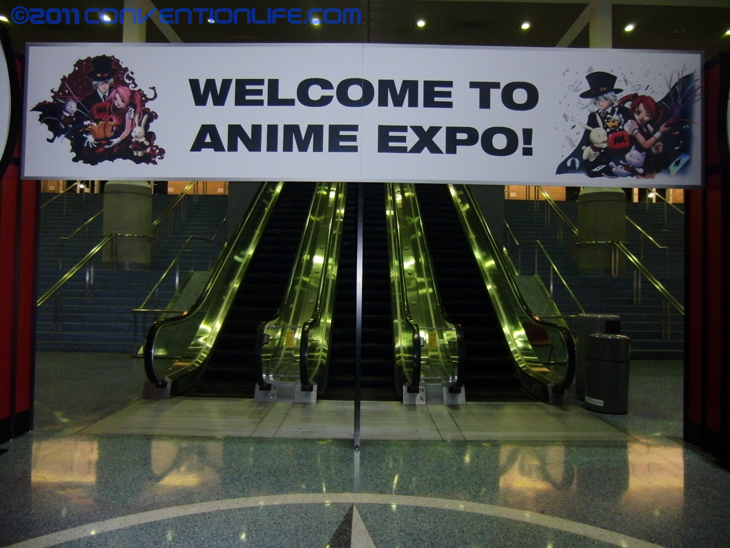 The calm before the 100,000+ attendee storm?
Every major entertainment industry should have a headlining event where industry members can come together, celebrate, and showcase their latest works. These events also serve as a way to get feedback and reactions which in turn serves as a driving force of inspiration for industry members to work hard for future events. Football has the Superbowl. Comics, television and movies have San Diego Comic Con. Video games has E3. For anime, there's Anime Expo.
Celebrating its 20th year, Anime Expo continues to grow as North America's Largest anime convention with a huge lineup of guests ranging from Japan industry veterans to modern American industry members to Vocaloid virtual idols as well as their creators and creative artists.
Anime Expo 2011 guests of honor featured: Danny Choo, Takaaki Suzuki, Makoto Kobayashi, Maon Kurosaki, Itoh Hiroyuki, Wataru Sasaki, Kenta Sugano, Hirano Katsuyuki, Toshio Furukawa, Sohei Niikawa, Taliesin Jaffe, Vic Mignogna, Izumi Matsumoto, Onyx Kobayashi, Nirgilis, Miyuki Sawashiro, Fred Gallagher, Toshiyuki Morikawa, Kalafina, Tetsuro Araki, Kentaro Hashimoto, Masayoshi Tanaka, Koichi Chigira, Hiroyuki Birukawa, Seiji Mizushima, Masayoshi Tanaka, and many more!
Opening Ceremonies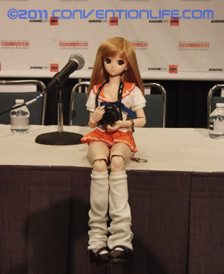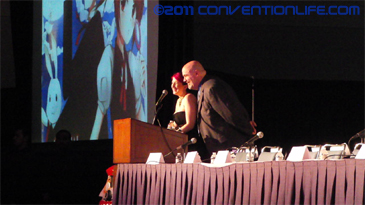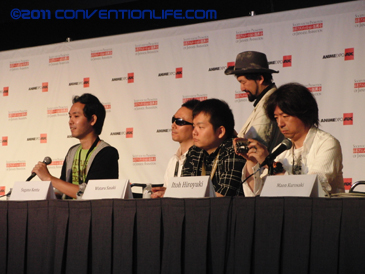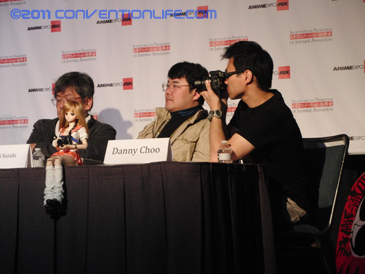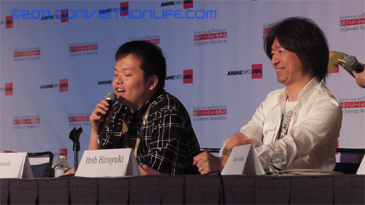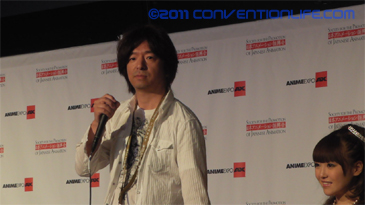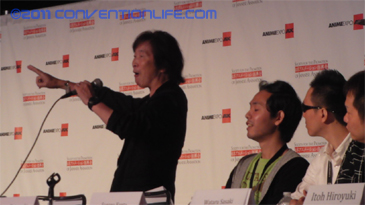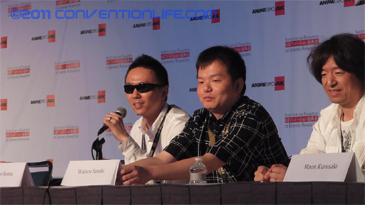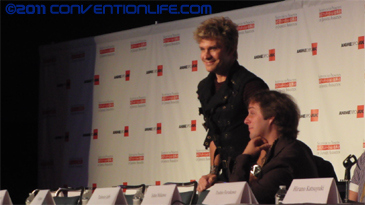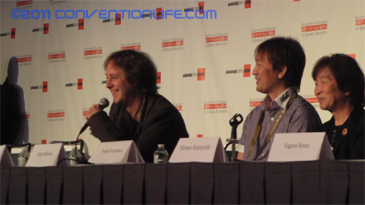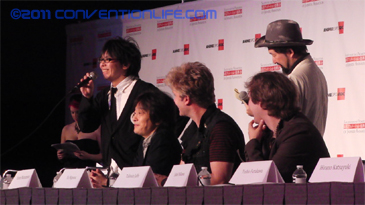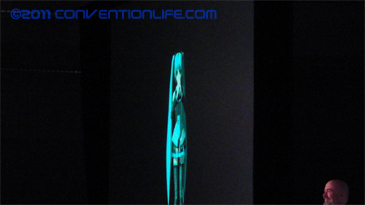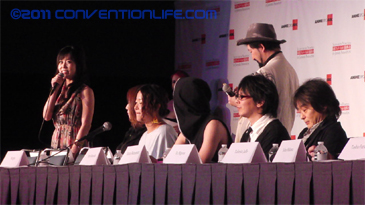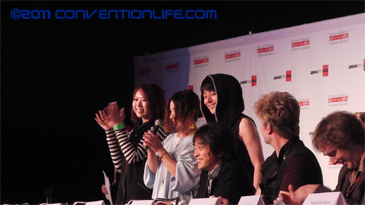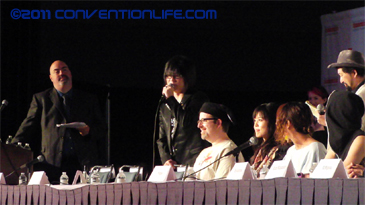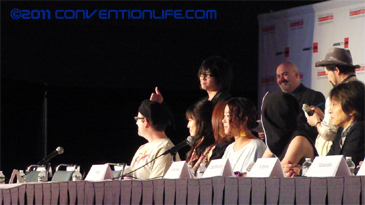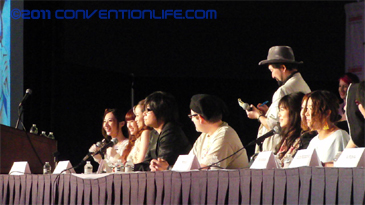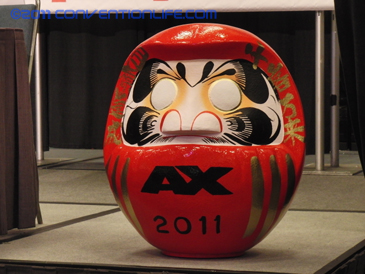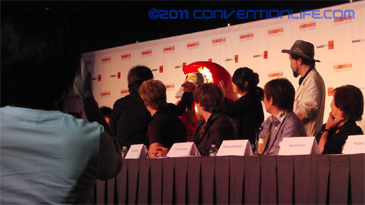 Opening ceremonies was full of excitement and energy from both attendees and guests of honor. Guests of honor in attendance gave a brief speaches which was met with positive reactions from the audience. It made me happy to hear so much excitement for video games such as Disgaea, Marl Kingdom, Record of Agarest War, Hyperdimension Neptunia and Super Robot Wars.
Spanning 4 days (5 if you count Day 0), Anime Expo 2011 featured many great events such as: concerts, industry & fan panels, the Masquerade cosplay competition, the AX Idol voice acting competition, Battle of the Bands, karaoke, arcade/console/tabletop gaming, autograph sessions, video rooms, video premieres, an exhibit hall filled with many events in itself, and much more!
Toshio Furukawa Panel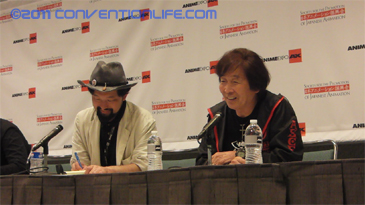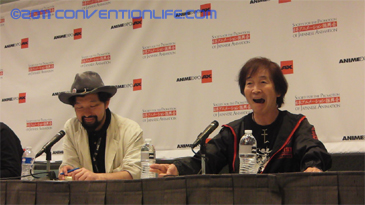 Toshio Furukawa, best known for voice roles such Piccolo in Dragon Ball Z, Ataru Moroboshi in Urusei Yatsura, and Shin in Hokuto no Ken/First of the North Star. At his panel, he told deep stories from working on Dragon Ball Z and Hokuto no Ken that only the original Japanese voice would be able to tell. In addition to that, he also performed classic lines and held a Q&A session!
Toshio Furukawa panel videos coming soon!
Mikunopolis
The highlight of Anime Expo 2011 was definitely the Mikunopolis American premiere official Hatsune Miku concert!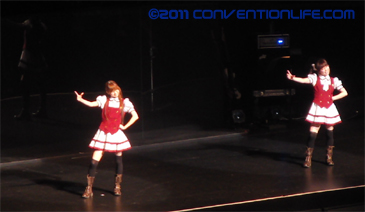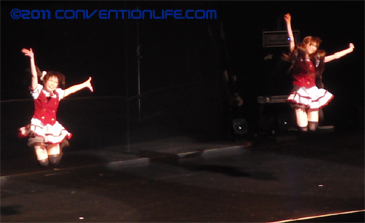 The Mikunopolis pre-show featured Danceroid dance group members Ikue and Aikawa Kozue performing Luka Luka★Night Fever, First Kiss! and LOL -Lots Of Laughs-. Their performances are truly a step above.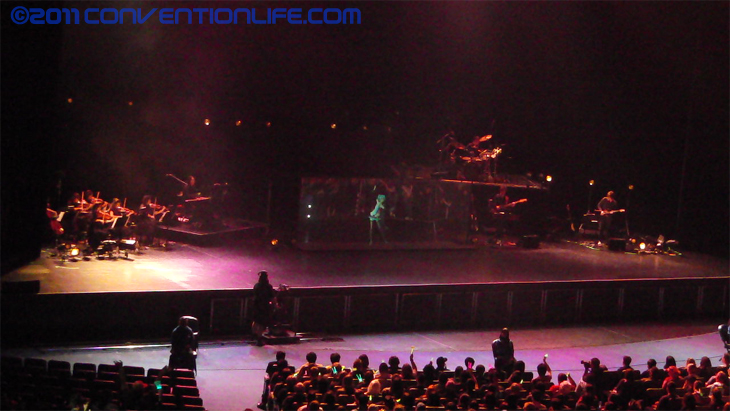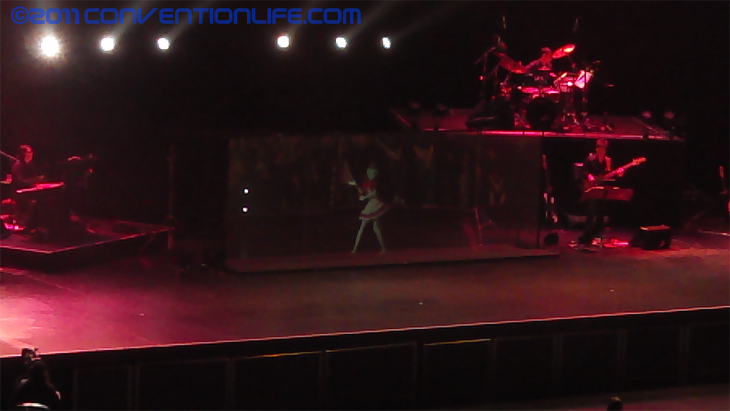 Accompanied by a full band, Hatsune Miku and friends were dancing at an ultra smooth framerate easily exceeding 60 frames per second, something that can't be experienced watching online videos.
Initially, most people were probably surprised at how small Hatsune Miku appeared to be compared to how most videos show her towering over her audience. Apparently, a few super sentai/Power Rangers "make my monster grow" low-angle camera tricks are used to achieve this.
After getting over the initial size-shock, one can see that Hatsune Miku is about the size of a person.
The projection technology used during the concert has the unfortunate problem of being very angle-dependent. Unless you're sitting exacly in front of the projector screen, whatever moves to the far end of the screen will vanish from sight. This is amplified by the enormous size of Nokia Theatre. As technology improves, I'm sure this will be remedied in the future.
Even with viewing issues, the crowd energy was great and it was still a very worthwhile experience. I would definitely pay again for the same event!
Mikunopolis was truly a historically significant event as proven by this official promo video for Google Chrome:
Google Chrome: Hatsune Miku (初音ミク)

Maon Kurosaki Concerts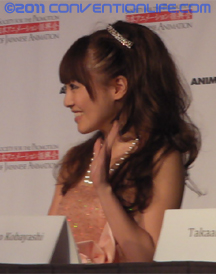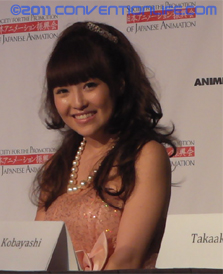 Maon Kurasaki, best known for role as singer of the Highschool of the Dead ending themes, performed not one, but two great concerts!
The first concert was held in the Los Angeles Convention Center LP1 as part of the Highschool of the Dead Midnight Screaming event. While the event was labeled as Mini-Concert, it was actually a full-length concert complete with backup dancers!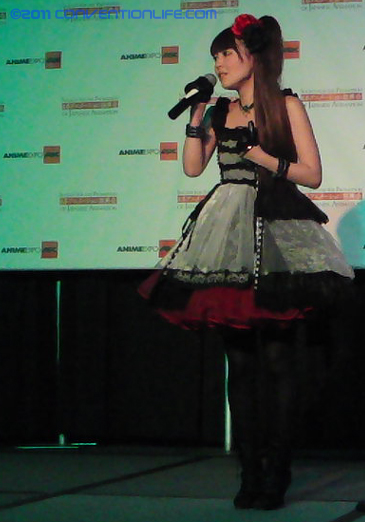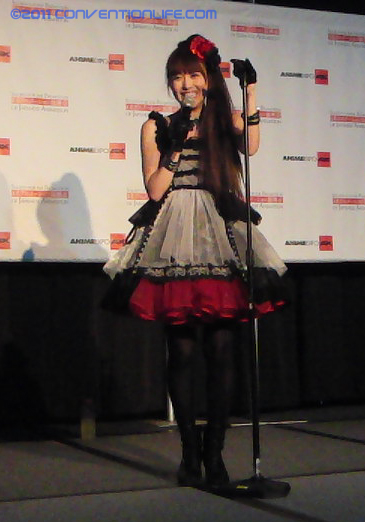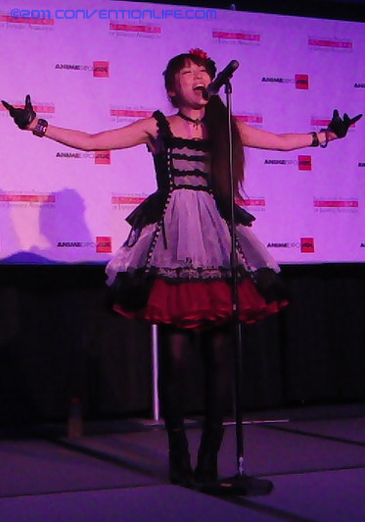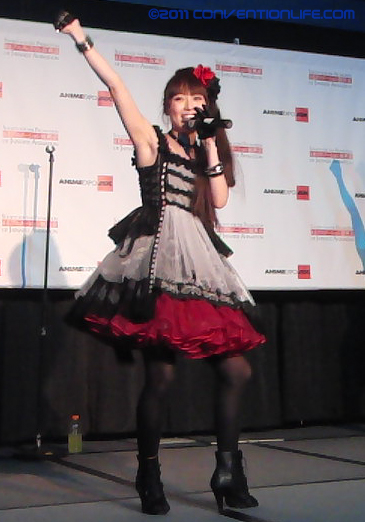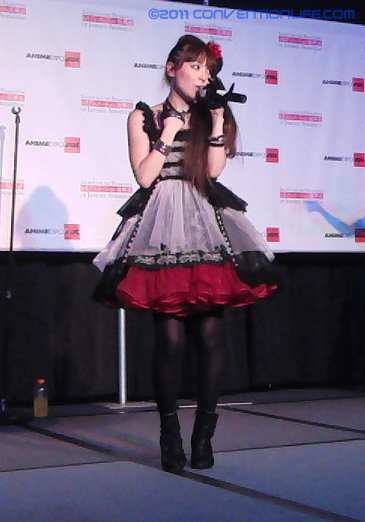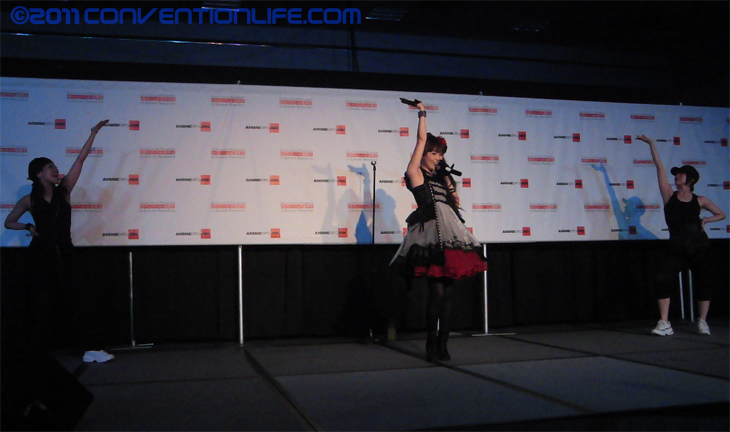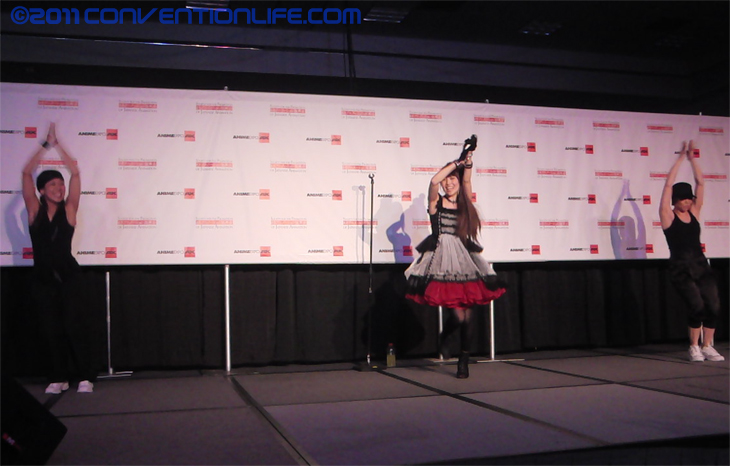 The second concert was held at Club Nokia. This performance featured more elaborate lighting, but had a few issues playing audio tracks.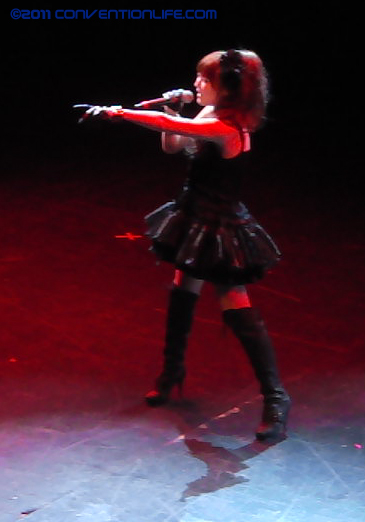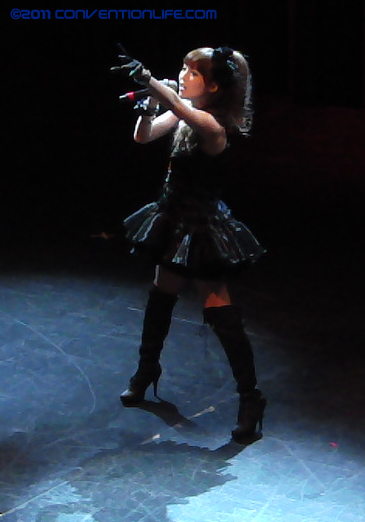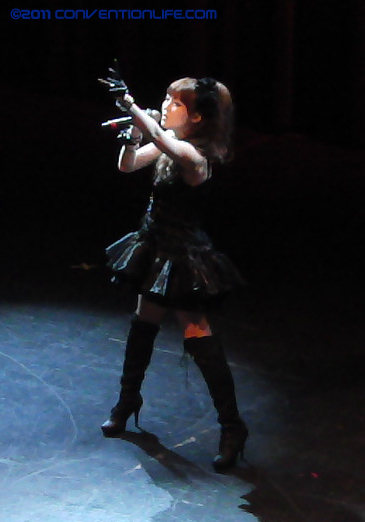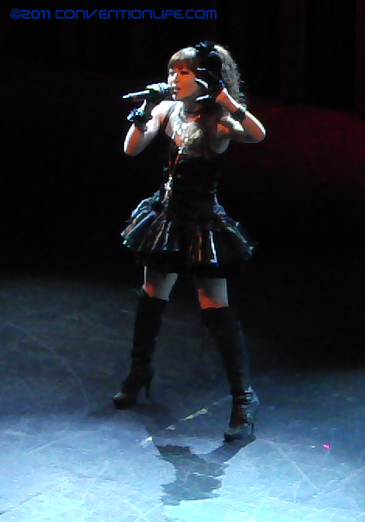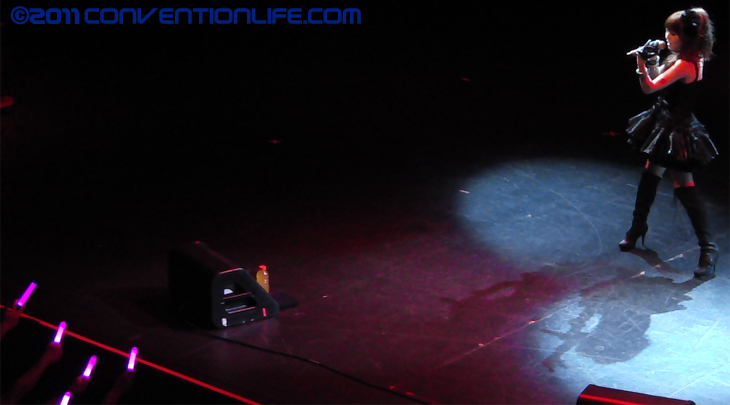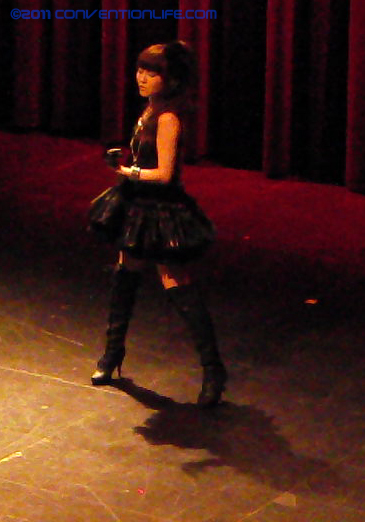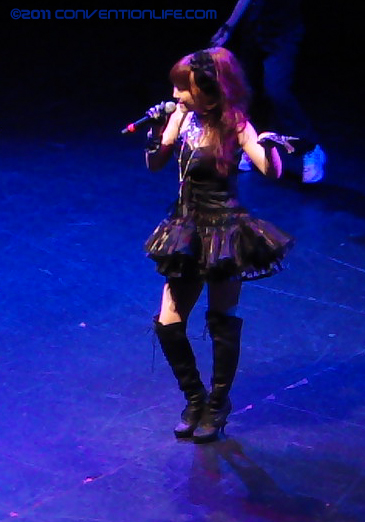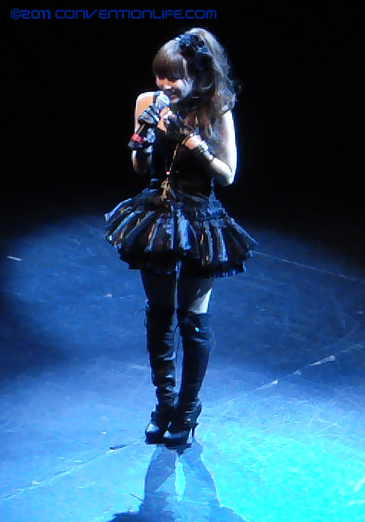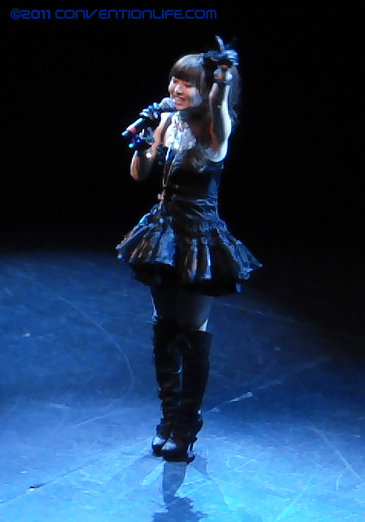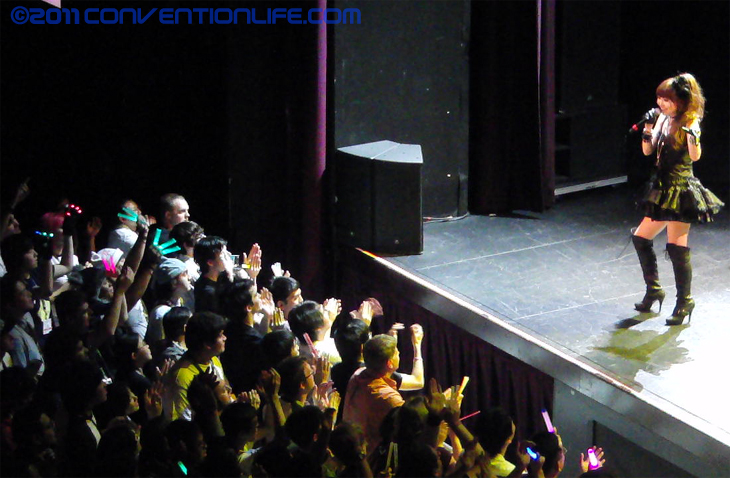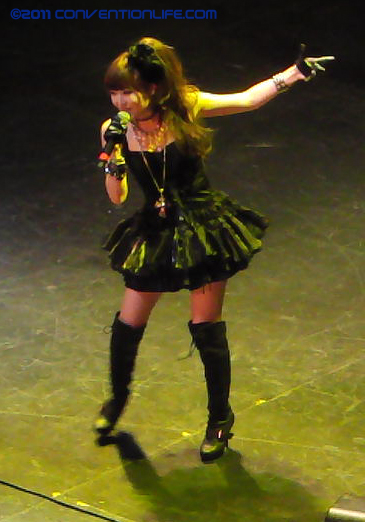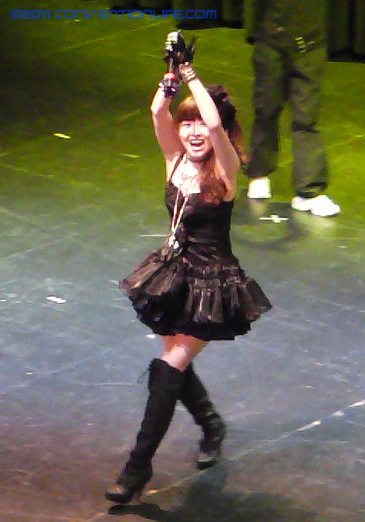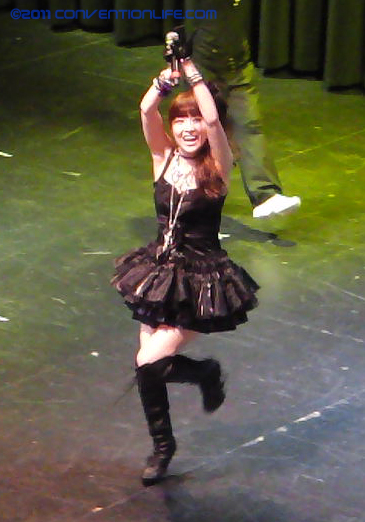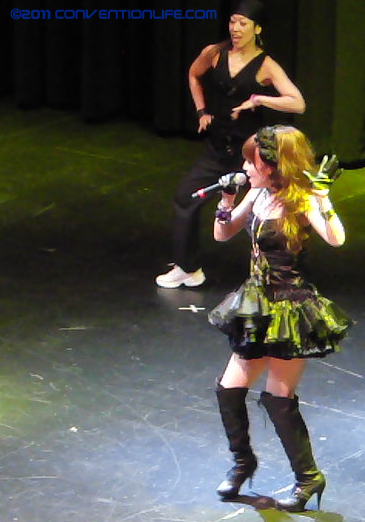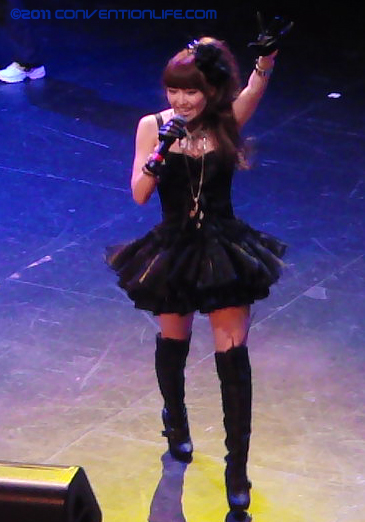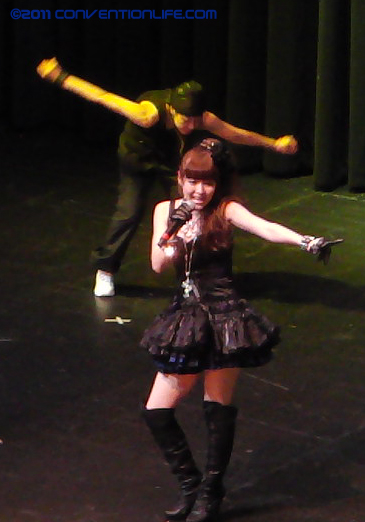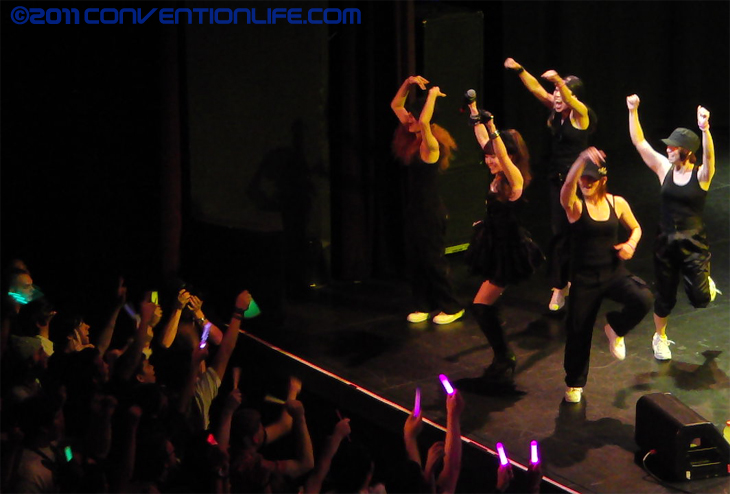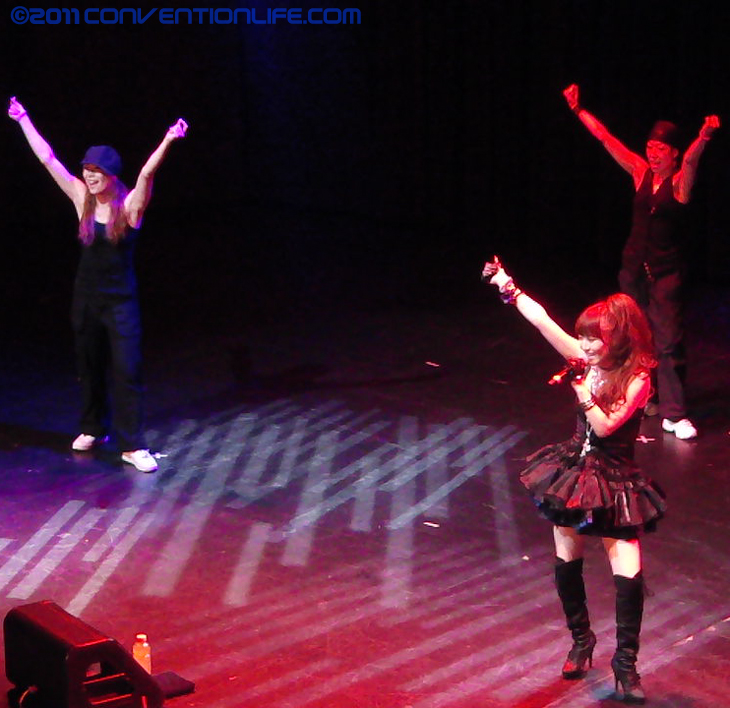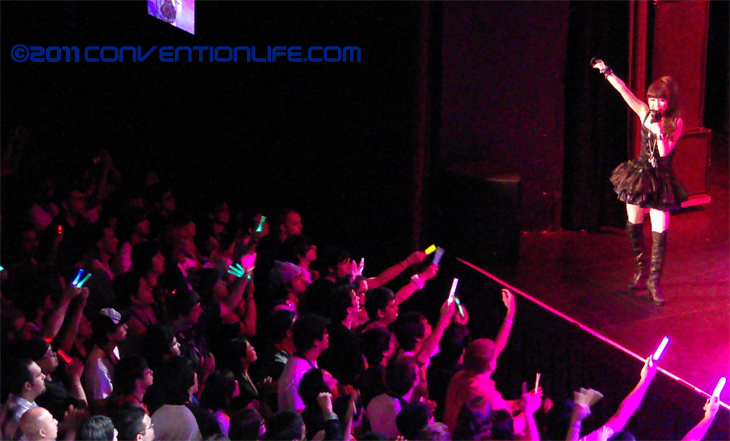 Both of Maon's performances were a lot of fun and I would highly recommend her as a guest to future conventions!
Improved Staff Attitudes
In past years, it seemed like attitudes of some Anime Expo staff has been growing along with the size of the convention. In 2011, staff attitudes definitely improved!
While the convention had its share of problems, such as illogical traffic flow rules and the mysterious, canceled, Animetal event that was scheduled for Monday (July 4th, 2011) at Club Nokia. During the convention, I made many attempts to get more information on the Animetal event, but no one could tell me anything about it other than that they hadn't heard of it being canceled so it should still be happening. I arrived 1/2 an hour before the scheduled time and waited for about 45 minutes in the hot weather along with about a dozen others with more arriving with time. After observing that the metal detectors weren't set up and no Club Nokia staff to be found, I rushed back to the convention center to inform the info booth. There, the woman apologized and assured me that someone would be sent to inform the people who were lining up at Club Nokia. This event is also mentioned in verygreen's report on the Battle of the Bands at: http://www.figure.fm/post/en/29370/Battle+of+the+Bands+at+Anime+Expo+2011.html
All in all though, I noticed that staff members were making an effort to be helpful, sympathetic and apologetic with attendees this year.
With a great guest of honor list, filled with epic events that only a convention as big as Anime Expo can achieve along with the improved staff attitudes, this was definitely one of the best Anime Expos I've attended in my 16 consecutive years attending the event! I rate Anime Expo 2011 as 8.5 out of 10.
Here's hoping they get Hatsune Miku back next year along with the upgraded Kaito!
-Michael Tang
mtangATconventionlife.com (fix the @)
*Supplemental updates are planned for this article.
Conventionlife.com is a website to help spread knowledge of pop culture conventions and events.
All written content and photos in this article are copyright 2011 conventionlife.com or their respective owners for news and informational purposes. Copying or redistributing any of the copyrighted material on this website is strictly forbidden without consent.